Student Minds is a UK based charity orientated around university students mental health. They believe that mental health needs to become a priority within all  universities, and that also that there needs to be a transformation in the amount of support available for students. They also work towards creating this change by supporting students to gain vital knowledge and skills to be able to care for their own mental health, and help others. They do this working with 'students, service users, professionals and academics to develop new and innovative ways to improve the mental health of students.'
To try and achieve these goals, Student Mind dedicate one day in the year to student mental health. The 7th of March is University Mental Health Day, and for this year, they have orientated this day around the importance of using your voice! For this day, many different organisations have set up events to help inspire students to share their experiences, and hopefully in turn encourage other students who may be struggling to use their own voice. Other ways of getting involved have included fundraising, sharing experiences on social media, writing a blog post and taking part in a charter survey.
I was unfortunatley scheduled to be on placement during this day, so was unable to attend any events that were taking place. Instead, I have decided to write a blog post explaining some basic knowledge on student mental health and services.
Why is change needed?
Historically, poor mental health has been very high in university students. This could be due to a high number of reasons, from the increasingly stressful lifestyle that university brings, to the disappointment felt by students who have not experienced the fun lifestyle expected when starting university. A lot of factors can influence the high rates, but even though the numbers are so high, not much has been done to make students aware of the services out there to help them if their mental health begins to deteriorate.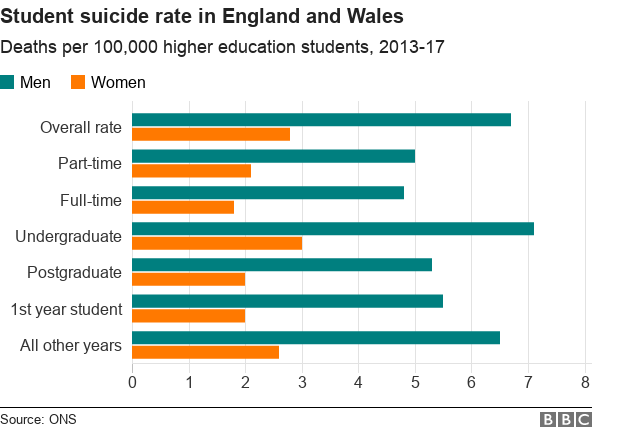 As you can see from the graph on the right, the suicide rates between 2013 and 2017 show that undergraduate students have the highest suicide rates. Out of 100,000 higher education students, 7 male and 3 female students resorted to suicide.
'In 2015/16, 15,000 students in their first year said that they had a mental health problem, an approximate 12,000 rise in 10 years.' This is a huge problems that needs some attention in universities as many students don't know where they can seek help when they require it.
Are things changing?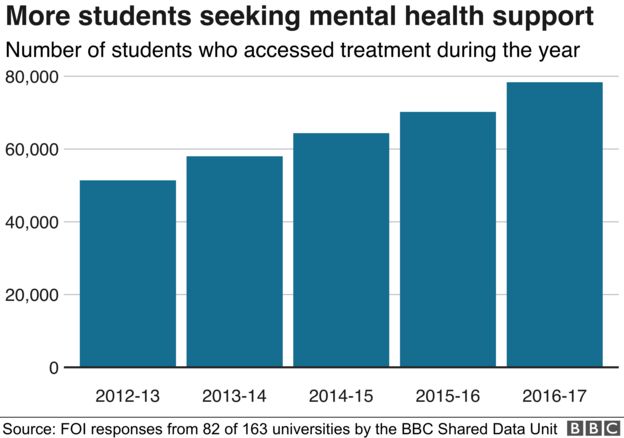 Although universities are far from perfect at advertising to students about their mental health, there has been recorded to be an increase in students who are seeking mental health support throughout the years. This could be due to a slow increase in services becoming more available and more awareness being raised towards student mental health.
Where can I get help if needed?
Each university is different, but if you would like to recieve some mental health services then please look into your universities counselling services, peer support groups and any other help provided.
My final part of this blog is to remind everyone who is reading it that YOUR MENTAL HEALTH IS MORE IMPORTANT THAN YOUR GRADE. If you are struggling and cannot cope, do not feel guilty taking a mental health day off for self care. If you are not enjoying your time as much as you thought you would, then that's okay, not everyone does – you are not strange for not love the university experience. If you need help relating to your mental health, then do not be afraid to ask where you can get support from, do not be afraid to use your voice to tell someone what's wrong.
Thank you for reading my blog, I hope that you enjoyed it!
References
https://www.studentminds.org.uk/
https://www.bbc.co.uk/news/health-44583922
https://www.mirror.co.uk/news/uk-news/powerful-image-tribute-students-lost-14101210